Back to Events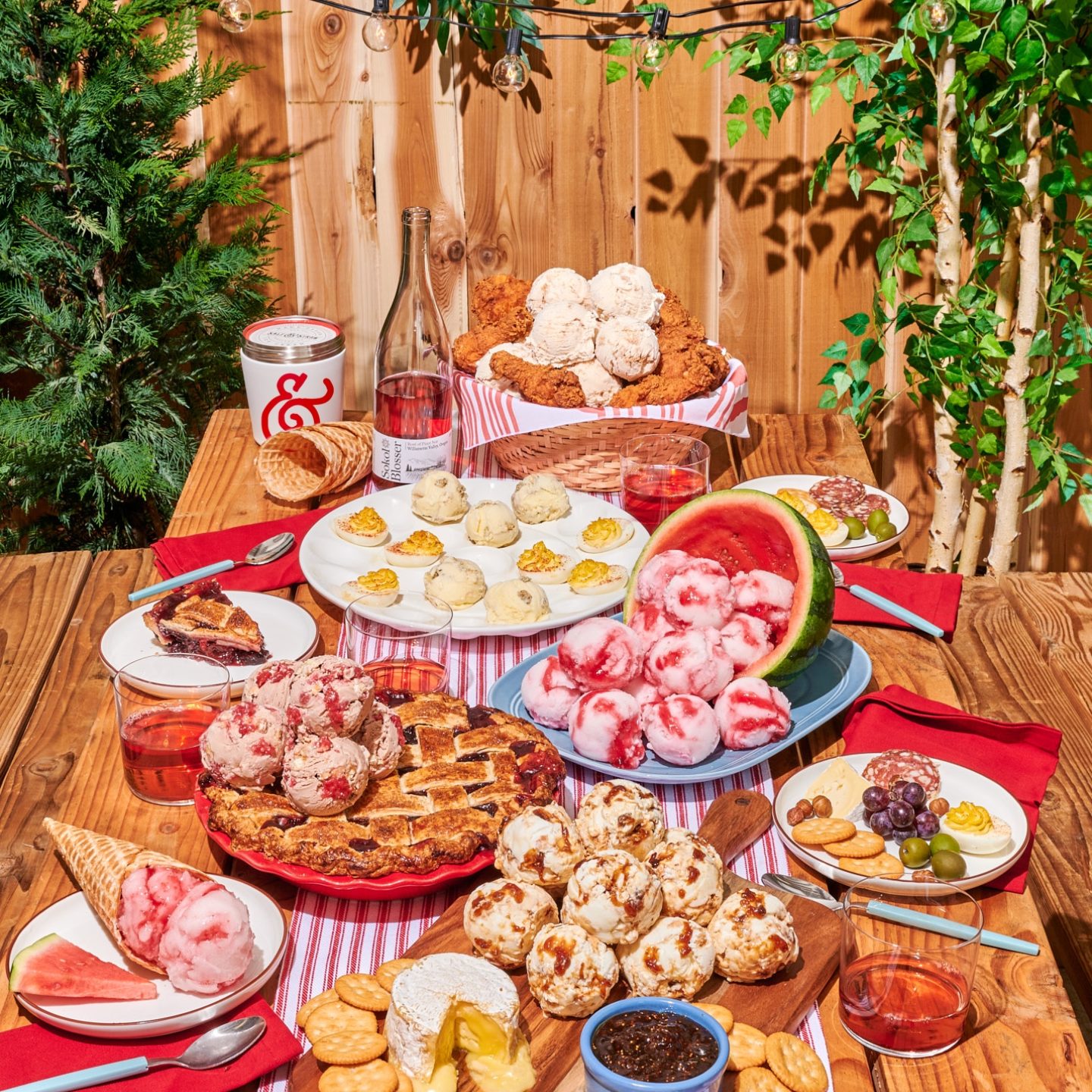 Events
Picnic Series at Salt & Straw
The grass between your toes, laying back on checkered blankets, watching the clouds between leisurely bites of your late afternoon spread. Yeah, summer is here, and we're here for it. June is the official kick-off for long weekends and warm sunny days spent picnicking at the park, so we've packed this menu with everything you need for an alfresco spread. Meet The Picnic Series at Salt & Straw.

Pink Rosé & Watermelon Sorbet (v)

Sunny days are calling, and this frosé is answering. We start with a ripe watermelon and rosé punch that we simply pour into our ice cream maker and let it coalesce into an out-of-this-world juicy sorbet. Then, we drizzle in house-made raspberry rosé jam for a crisp tartness that carefully balances the sweetness of the wine.
Made with Sokol Blosser Winery
Dietary Considerations: Trace amounts of alcohol
Baked Brie & Fig Cheesecake
Gooey, silky, slightly funky and quite sophisticated. We start with a whipped brie cheesecake baked on a candied Ritz cracker crust with dark ribbons of sweet, thick fig jam. The rich, melt-in-your-mouth-buttery smattering of cheesecake is thanks to our friends at Cowgirl Creamery for making the most decadent local cheese on the West Coast.
Made with Cowgirl Creamery
Contains Milk, Eggs, Wheat, Soy
Devilled Egg Custard w/ Smoked Black Tea

We first had to deconstruct this classic picnic icon before we could truly dial it into dessert perfection. We started with an egg yolk custard laced with Kala Namak, an umami-rich black salt mined near the base of the Himalayas, studded with crumbles of smoked tea-infused shortbread (a fun way to mimic the classic bacon garnish). Top it off with a peach balsamic egg white marshmallow fluff and you have one of the most memorable bites of ice cream you'll ever taste.
Made with Steven Smith Teamaker
Contains Milk, Eggs, Wheat
Cinnamon & Honey Fried Chicken

Slightly savory and evocatively spiced with sudden pops of crackling texture, this ice cream brings together the unprecedented marriage of ice cream and fried chicken, a marriage that the world didn't even know it needed. We start with fresh croissants, torn into bits, deep-fried with chicken fat 'til crispy perfection, and churn them into salted vanilla ice cream. A shake of very special (very secret) spices adds a sweet heat kick.
Made with Ezell's Fried Chicken
Contains Milk, Wheat, Soy
Chocolate Nocino Cherry Pie

A rich, single-origin chocolate ice cream spiked with Nocino brandy and hunks of rustic cherry slab pie. Every party eventually comes to an end. And like any great party, we can't leave without an epic dessert pairing. Enter cherry slab pie and local-made digestif. For this partnership, we looked to Stone Barn Distillery and their world-famous, three year-aged, green walnut liqueur called Nocino made from hand-picked Oregon walnuts. A healthy splash of that nocino brings intrigue to a single-origin chocolate ice cream with hunks of rustic cherry slab pie.
Made with Stone Barn Brandyworks
Contains Milk, Wheat, Eggs, Tree Nuts (walnuts)
Dietary Considerations: Gelatin (pork), Trace amounts of alcohol